WordPress Website Development Features and Useful Plugin
WordPress Website Development Features and Useful Plugin
WordPress is most popular open source CMS Platform based on PHP and MySQL.  WordPress has grown into a fairly popular content management, website development, and publishing platform. It is very easy to design and development. It has great features and is easy to get up and run the web application. WordPress is a great option for small businesses looking for an easy development and  professional way to create great designs for their website.
Development Supports
WordPress has strong and easy content management system. As WordPress is open source software it can be operate by any one for personal or professional use. Best Part of WordPress is it's plug-in, and this make wordpress out of the performance. There are numbers of effective plug-ins in wordpress which can be use to develop website easily and make it search engine friendly. Search Engine friendly I am saying that its content optimization, link structure, widgets which helps to meet it to the search engine closely. But as expected the level of support you get with them can be hit or miss based on the developer's free time and desire.
Attractive Designing Component
WordPress gives best result in terms of keywords ranking as compare to any other web platform. Another service provided by Word Press Development Services is widgets. These are small modules that help users in the implementation of many plug-ins and drag-and-drop sidebar content. Widgets allow Word Press developers to add functionalities such as slideshow, news sliders, Facebook etc.
Let's take a quick look at four easy WordPress design techniques for creating a killer site.
Useful Plugins
UberMenu Top Megamenu
Now it is the time of sticky Top navbar. It give the extra charming and easy to find the links. In the sense of SEO it come to breadcrumbs linking. Sticky menus allow your users easy access to your menu at all times, without having to scroll back to the top of the page to navigate to a different part of your site. This is a highly customizable menu option with drop-down capabilities.
Compatibility
It is compatible with WordPress 3.5+ and UberMenu 2.2.2+ with jQuery 1.8.2+ (included with WordPress 3.5+) Menu Management. One plus poing also it is regarding responsive design. UberMenu Sticky Menu Extension is automatically disabled for mobile devices (phones, iPods, etc), since fixed position menus may become inaccessible on small screens. It is simple yet very powerful.
Click to Live Preview
Quform – WordPress Form Builder
Quform is an advanced WordPress plugin that allows you to quickly and easily build multiple forms with total control. Ignore the codes or just don't want to write the code for custom form but still want to use forms, this is the plugin for you. It is point-and-click building to create complex or simple forms for whatever you need.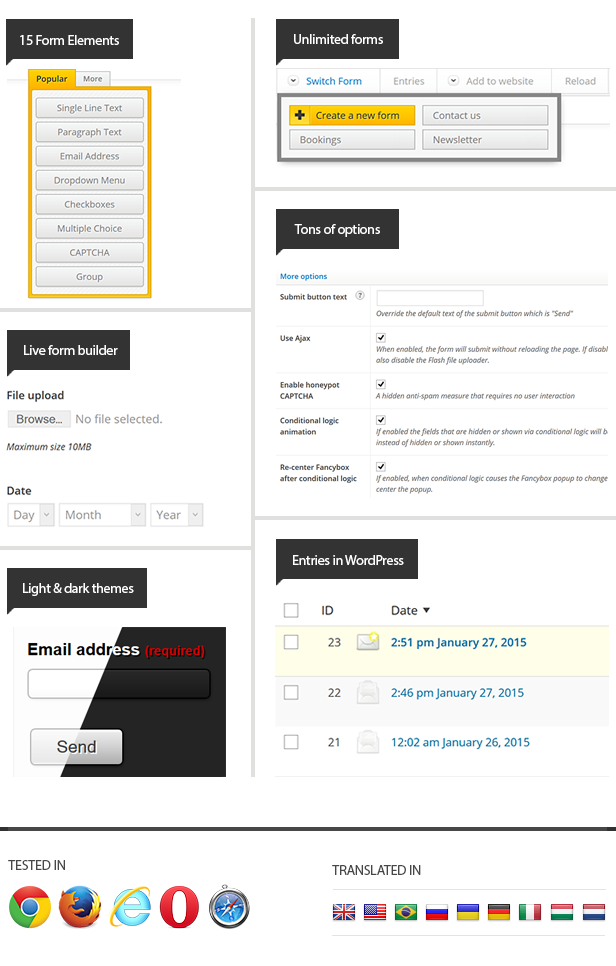 WordPress Live Chat Plugin for Sales and Support
This beauty does exactly touch the extra ordinary features to get alert on the website. Live Chat Plugin provides a way to chat with customers without paying for a service using operators and chat logs. Although WordPress has the own chat plugin and also support the third party chat tools. For the WordPress live chat you can download it from WordPress official website. You can Download
The Banckle Live Chat Plugin, you can effectively communicate and conduct live chat sessions with the visitors of your WordPress website.
HTML5 Video Player
http://s.wordpress.org/extend/plugins/html5-video-player-with-playlist/screenshot-2.jpg?r=709804
This is the amazing features of HTML 5. It's video player has multiple skins and controls that work even in full screen mode. If you are using videos on your site then this is the plugin to use. It allows WordPress users to easily use HTML5 < video > the element enable native video playback within the browser. It works in IE, Safari, Firefox, Chrome, Opera, mobile devices including Android/iOS.
If you are being eager to download this plugin so you can download from here. Download
WP-Optimize
This is absolutely essential if you don't manually manage your database or run your own optimization scripts. Plus you can rename users including the default admin user.
As WordPress Development Company has developed thousands of website in WordPress CMS. So that just giving notes of usefull features of WordPress Development.